Haefely
Haefely, one of the original EMC manufacturers, is a leader in providing effective commerical immunity equipment designed for a variety of different applications. Their full product line designed around the AXOS platform makes them an ideal solution for modular test solutions.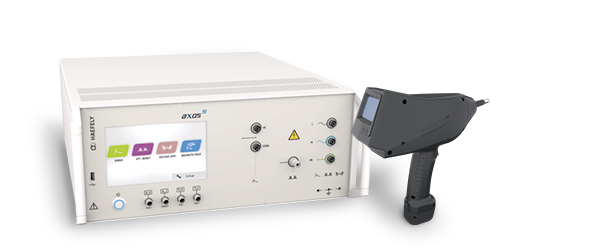 Haefely Equipment Categories
Immunity Test Systems
Rent Haefely immunity test systems designed for ESD, surge, and EFT/burst testing on both power and data lines. Get fast deliveries on ISO 17025 calibrated equipment, many systems shipping the same day we receive the order.
View EFT Generators
Haefely Axos5 Transient Generator
The Haefely Axos 5 and Axos 8 test systems are commonly configured for both combination wave surge and EFT/Burst making them ideal solutions for IEC 61000-4-4 and IEC 61000-4-5. We offer rentals of the systems as well as CCLs and pulse verification equipment.
Common EFT & Surge Equipment:
1. Transient Generator
2. Capacitive Coupling Clamp (CCL)
3. EFT Verification Kit
4. Current Monitoring Probe
5. Voltage Differential Probe
6. Cables & Connectors
Rent Transient Generators
Interested in Renting?
As a rental partner we carry a wide range of different Haefely products including
ESD simulators, transient generators, and associated CDNs. We provide ISO 17025
accredited equipment, two free days transit time, as well as technical support
with every rental.