LISN/AN Rentals - Emissions Measurements Equipment
Rent 5uH Line impedance stabilization networks (AN/AMNs) designed for compliant testing to CISPR 25, MIL-STD-461, ISO 7637-2/-4 as well as BCI requirements up to 200Amps.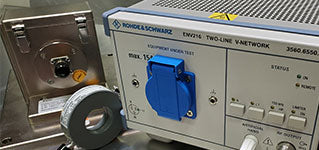 Get fast deliveries and online rentals on a variety of V-LISNs designed testing to a variety of standards including CISPR Requirements and FCC Part 15.
View all emissions equipment available for rent including both compliance and pre-compliance testing solutions. Get fast deliveries on a wide variety of conducted emissions equipment.
AC & DC LISN/AR Equipment
Line impedance stabilization network or artificial networks (AR) provide a compliant solution to CISPR 16-1-2 and ANSI C63.4 requirements for conducted emissions measurements. These are typically differentiated based upon application, ISO 7637 for automotive, CISPR 25 for commercial, and MIL-STD-461/DO-160 for military. Depending upon the application, the montioring equipment can be rented individually or in pairs. Typically they are catergorized by Inductance, capacitance, also voltage and current as well as a variety of other factors.